English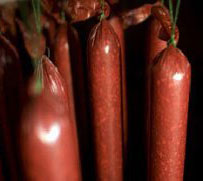 Hygns Vilt is a close knit family business focused run by the Hoeglund family. Their main focus is on producing high quality meat from deer and elk raised in the forests in Värmland. The slaughterhouse is EU certified and the new smokehouse and farm shop is all in close proximity to the deer enclosure.
Todays' modern consumer is very conscientious of what's on their plate, where it comes from and how it got there. More and more are weary of eating the same foods provided by streamlined global food chains. Local food produced in a clean environment with caring hands has become a rarity. We offer wholesome natural food from healthy animals living wild or raised in a stress free environment.
After living in big cities on three different continents our family has chosen to set up a specialty meats business in the beautiful Swedish wilderness. The unpolluted and fertile forests of this area are ideal to produce high quality food lacking in today's modern marketplace.
We offer a vide variety of smoked delicacies like savory salamis, spicy sausages for the barbecue and smoked elk and venison. Year round we have an assortment of venison and elk in the freezer. Our products are available abroad and at special request we have a facility to arrange transport also of frozen meats.